Question: I hate the secularization of Christmas. How can I and my family keep the Nativity Fast and celebrate Christmas without getting into all the commercialization that surrounds it in society?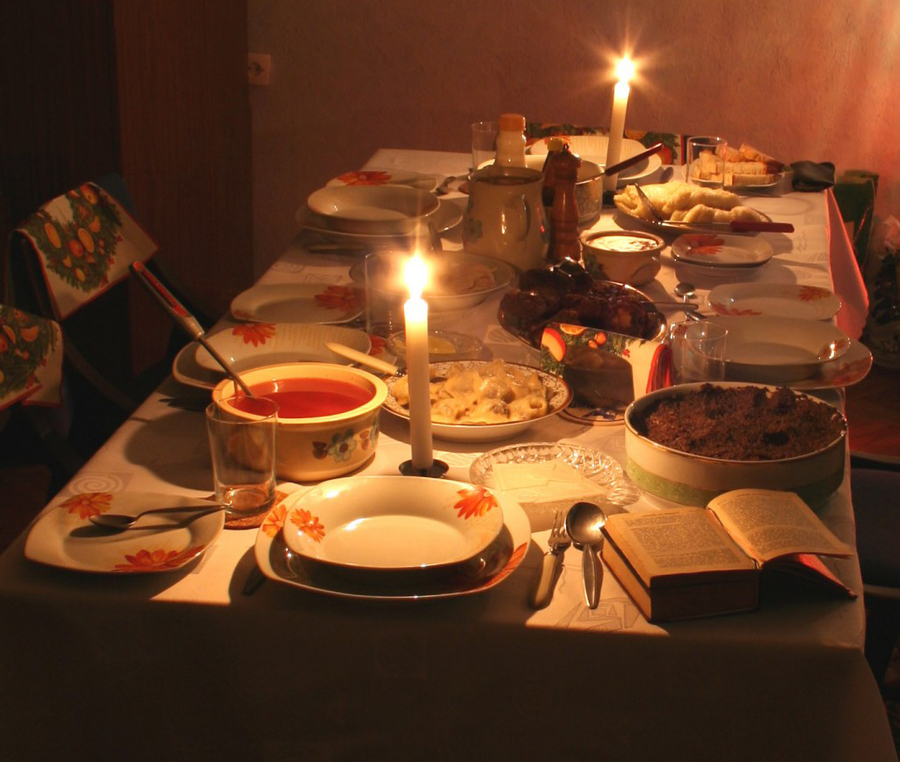 Almost all of what can be said in reply to this question is very obvious and simple, but can be difficult to implement. For those with families, it would be advisable to talk over all these points together and to encourage each other in adhering to everything as we draw nearer and nearer to the Feast of the Nativity of our Lord. If a beginning in the following suggestions has not already been made, it is never too late to start.
First of all, be sure to keep the fast! In following the fast as we should, many of the intrusions which the world makes into our homes during this time will automatically be eliminated. Remember, a "fasting" day or period is not limited only to food, but includes vain entertainment as well.
With this in mind, we would like to stress that no one should look at "fasting" as something negative: "we can't do…", "we can't eat…", we can't go. Instead we need to redefine the way we see a fasting period, such as this time before the Nativity of the Lord. This is a preparation period and a time for spiritual growth—and this idea is certainly not something negative!
The world in which we live is constantly intruding into our innermost lives as it attacks all of the bodily senses; this is never more obvious than during this time of the year. We are encouraged to see, hear, taste, touch and smell all sorts of things that take our minds off of traveling the road to Bethlehem for the birth of Christ.
Obviously, for those who are either single, widowed or have no young children in the home, all of what we need to do to make the Nativity Fast a true time of spiritual growth is much easier. The target for so much of the advertising during this period is aimed directly at those who are most vulnerable—the children—and the things which are advertised are usually the very things that we need to avoid. Each household is a unique situation, and this will have to be kept in mind when trying to implement the suggestions we would like to make.
Those with children at home often find the actual fasting from foods difficult during this time when it seems that so many rich, enticing and definitely non-fasting foods are pushed at us. It often helps to have special Lenten foods that the family enjoys and which are served only during this and other fasting periods. We do not, however, want to dwell only on the culinary aspects of the fast in this article; we assume that all reading this are indeed adhering to this aspect of the fast, since it is not optional.
A fast only from specific foods is certainly not the sum total of our preparation for the Nativity. Fasting includes avoiding entertainment—another thing which abounds during this season. It is possible in almost all circumstances to avoid office parties and other gatherings by truthfully stating that as Orthodox Christians we do not begin to celebrate until the Feast has arrived. IF attendance at such an event absolutely cannot be avoided, then it is always possible to find things to eat that do not break the fast, and also to simply excuse yourself early.
This is certainly a time when we should be intensifying our reading and daily prayers. We find a number of great saints whose feast days fall within this fast: St. Nicholas on December 6, Saint Spiridon on December 12, St. Herman on December 13, St. Ignatius on December 20 to name just a few. Read their lives and truly pray to them. Also, within the time of this fast there are quite a few of the prophets whose feast days are also commemorated: read their prophecies as well from the Old Testament. The Katavasia of the Nativity are sung beginning on November 21—whether you are a singer or not, get the words and music from your priest and learn them, singing them throughout the day when you are alone or with your family. They are very beautiful and uplifting.
These are just a few of the things that can be read as a family, as well as individually, and our daily prayers can—and should—include a petition to God to keep us from all which would harm the soul.
Many parishes offer a retreat or seminar during this time. If your own parish is not having something like this, there is a good chance that a surrounding parish is! Speak with your priest and ask him about this. If there is not a retreat or seminar (and even if there is!) it would be a good idea for several people, like yourself, who want to redirect their priorities during the Nativity Fast to meet together in a reading group. Accountability always tends to make us read and pray more!
The so-called "Christmas specials" on television and the bombardment of commercials that tell us of all the things we absolutely must have or must buy to be a good mother, father, brother, relative, friend, etc., are enough reason for everyone to turn off the television! The "Christmas specials" seem to emphasize that the "true meaning of Christmas" involves being loving, caring, self-giving, etc (sandwiched in between commercials which appeal to greed) and mention nothing of the fact that God has become flesh in His love for mankind in order to restore us to that image that was lost!
Now we finally come to the most obvious aspect of the secular celebration of Christmas—presents. While it is now too late to implement this suggestion, it is certainly something that can be remembered and acted upon for next year purchase gifts before the Fast begins!
Limit gifts to a minimum. Certainly everyone has said at one point or another that the proverbial "next year" will be different and more simple. Begin now. There are so many ways in which this can be done, and again, every situation is unique. Most people like gift certificates or a donation made to their favorite charity in their name. Within families, it can be as easy or as difficult to limit the frenzy of gift-giving as you decide to make it.
Above everything, remember that we begin to celebrate when the world around us is finished celebrating! On December 25 we hear non-Orthodox people saying, "Well, that was a nice Christmas, but I'm glad it's over." For us, having fasted and anticipated the Lord's birth for forty days, we are just beginning to celebrate, to sing carols and to comfort our weary bodies with richer foods.
Let us celebrate the feast of the Lord's Incarnation with spiritual joy instead of being so tired and burned out that we echo the sentiments of those outside the Faith who are glad to see these days, which are so holy to us, come to an end.
Christ is born, glorify Him! Christ is come from the heavens, receive Him! Christ on the earth. Rejoice, all the earth, sing to the Lord, for He has covered Himself in glory!
From The Veil, Vol. 12, No. 3 (Nativity Fast, 2005). Originally titled "The commercialism of Christmas". The Veil is a publication of the Protection of the Holy Virgin Orthodox Monastery. Free subscriptions to The Veil are available by writing or calling the convent: 2343 County Road 403, Lake George, CO 80827; 719-748-3999. Posted on 12/10/2006 with the permission of the convent.