In the Name of the Father, and of the Son, and of the Holy Spirit!
This week, in the very center of Great Lent, the Holy Cross is brought out as a consolation for those who have truly borne the weight of the fast, in full measure, as it should be. But for those like I, standing before you, who have just barely touched this weight, it serves as a reproach. And may God grant that we perceive this reproach, feeling it vividly in our hearts!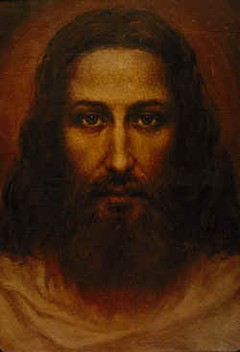 There are few words in the Gospel that would be as difficult for us to accept, and as important for us to accept, as the words of the Gospel reading for today: that man must "deny himself" and take up his cross. It is not without reason that the Lord immediately adds a reproach and a threat to those who are ashamed of His words "in this generation." [1] This is a necessary reminder, for this generation and the prince of this world do the thinkable and the unthinkable to make the words about denying oneself and one's own selfhood – as well as the path of voluntary acceptance of one's cross – seem like something comical, insane, strange, or absurd, so that we would cease hearing these words, rendering them merely conventional: well, little bits of unpleasantness are what the cross is; we all bear our crosses; everyone faces some kind of unpleasantness. "Deny himself"? What does "deny himself" mean?
At the same time, we hear how the voice of this generation ceaselessly instills the contrary in us. We have lived through an era in which the voice of this generation resounded in godless propaganda. But now, when this godless propaganda has fallen silent, we continue to hear it in that same advertisement that hourly turns the Beatitudes inside out. This generation and the prince of this generation instill this in us: "No, they that mourn are not blessed, nor the poor in spirit, nor those who hunger and thirst for righteousness. Blessed are the successful, the winners, the famous, the greedy, and those not ashamed of their passions." This generation indulges them, and we need courage, the courage the Lord demands of us under the most terrible threat, not to be ashamed of His words in this generation. To preserve them faithfully. And to try to fulfill them, in whatever small measure.
Execution by cross involved bringing this heavy cross to the place of execution; the Roman custom was that the condemned one had to carry his cross himself to the place of execution in order to aggravate his torment. But God reversed the designs of the executioners, who were thinking only of mocking the condemned. The fact that the one to be crucified had to carry the cross himself makes possible the visible image of voluntary and magnanimous acceptance. He himself stretches out his hands to this cross. But what is the inclination of his heart? The thieves (including the unrepentant thief) were also forced to bear their crosses. But one can raise one's hands to one's cross as to a gift of God, as to something given us from above, turning disparagement over our life's misfortunes into regal good will towards their acceptance. It is to accept in good will – in a generous, magnanimous, regal, forgiving inclination of one's heart – that which we have to accept anyway, but regard as ridicule and humiliation. Our Heavenly Father, Who has given us the glory of being His children and has given us so much – talents, courage, the ability to perform feats of bravery, the skill of mastery – has perhaps given us no greater opportunity on earth than this. For God uses a different yardstick.
Who knows, perhaps in the hour of Judgment many amazing deeds of courage will not be valued so highly, since the person who performed them put on airs in front of others or at least to himself? As for so-called human creativity, which is human participation in God's creation, this is entirely a gift of God. That which perhaps best approaches God's creation from nothing – and not the so-called creativity of poets, artists, and thinkers, who create from that which God has already given them – is action, the sort of modest and unobtrusive action of man's free will done voluntarily and unobtrusively, without flaunting its burden (perhaps not even such a terrible burden, but borne in a pure and magnanimous inclination of heart) either in front of others or of oneself, but done only for God, and not to please others or oneself. Or perhaps – if God's bounty were to grant us such an opportunity – to accept voluntarily that which we already endure against our will. With the proper inclination of heart, this too will be reckoned not as defeat, but as victory; not as disparagement before the circumstances of life, but as a generous and voluntary deed. Therefore, if giving this some thought does not astound our hearts, then we must ask of God that He take from us this hardened insensitivity, granting us to see how, during every second of our little vexations, chagrins, and resentments, we have the opportunity to achieve the heights to which He has called us.
One English authoress has a play, the hero of which is a prideful artist who believes in God and is ready to repent before Him of even his gravest sins, but cannot part with his artistic pride. He throws down a challenge to Christ Himself while talking with Him: "No, I will not renounce my artistic greatness, no matter what torment You therefore send me. I am ready to accept any torment." He was arrogantly ready to accept any torment, but it was enough for Christ to reply: "You cannot name a single torment that I have not already taken upon Myself." [2] May God grant us not to forget this in our times, which so strive to uproot the sense of the cross even from believing people! If someone is ill, this means that the medicine is not good enough; one needs to find a doctor that is better, even better. If our country does not have good doctors, this serves as a cause for anger and resentment – but other countries have them. If there are still certain illnesses that today are incurable, tomorrow they will be cured. Progress has seemingly promised to eliminate the cross from human life.
The cross, of course, will not be eliminated. People suffer and continue to suffer. What threatens us is the loss of the proper inclination of heart towards the cross: we perceive burdens as insults from others; ailments as the mistakes and poor work of doctors; and death itself as a medical error. May this not be the case for us! May man not agree to give up the very highest dignity he has been granted: the most luminous opportunity to participate in the royal cross of Christ! For if Christ's sacrifice, as you have just heard in the sermon, cannot and should not be repeated, then we are given the opportunity of being participants of this unique High Priestly sacrifice. The Apostle Paul even had the boldness to speak of us filling the measure of Christ's afflictions [cf. Colossians 1:24]. There is one sacrifice. And one Who is blameless and has the power and worthiness to offer this sacrifice. And we, thinking of the Lord's Cross and its weight, should likewise remember that it is our sins, the sins of each one of us, that make up the weight of the Lord's Cross.
There is an ancient patristic reflection that has come down to us in the writings of the Blessed Augustine (although it does not appear to be his work) in which a believer turns to Christ – to the Infant, Child, Man, so beloved, beautiful, pure, perfect, and innocent ­– and asks again and again: "Why did You need to suffer? Of what does Your torment consist? It is I. You suffer for me. My sins make up the weight of Your cross."
The cross stands in judgment of this generation, for what do we see? In human life there is much that in and of itself is honorable, good, and constructed for the preservation of justice: the courts, the government, the family way of life. But it has all been spoiled by sin. And where is there a place in this world for Him Who is wholly blameless? Christ bore witness that, unlike the birds that have nests and the foxes that have holes, He had nowhere to lay His head [cf. Luke 9:58]. He was holy, completely pure, did not mingle with any of the world's evil, and did not have anywhere in this world to lay His head. Ultimately there is only one place we have not yet been able to defile, and which is impossible to defile: the cross. This is a place of purity of suffering.
Let us pray for those who take upon themselves difficult, heavy, sacrificial labors for us. And let us pray for ourselves, who are not doing this, that at the very least we would have a kindly and pure attitude towards all those hardships, whether petty or more serious, of which life is so generous; that we might take up our crosses as crosses, and at the same time forgive those who have offended us. The slanderers against faith – who mocked the Christian idea of humility, forgiveness, and the taking up of one's cross – often repeated that this is a blind and servile feeling, blind submission; that it does not discern between justice and injustice, accepting everything indifferently. This can happen. But this is in no way the Christian understanding of the cross.
For regarding Christians who accept the cross it is said: Blessed are they that mourn [Matthew 5:4]. In Greek the word used signifies those who, as it were, bear grief, that is, those who do not accept or admit falsehood, not allowing themselves cheap consolation in the face of the world's evil. The same is said in the Beatitudes: Blessed are they which do hunger and thirst after righteousness [Matthew 5:6]. This is what bearing one's cross means: the willingness to suffer, the forsaking of the unrighteousness of the world, the rejection of sin, and the forgiveness of the sinner. Lord, grant us to see this in things little and great, at every moment, once we have left this church and gone on our ways! Grant that we not forget this! Do not abandon us!
Amen.
Translated from Russian.
Delivered in the Cathedral of the Vladimir Icon of the Theotokos in the Sretensky Monastery in Moscow on March 21, 1993. Sergei Sergeevich Averintsev (1937-2004) was a distinguished philologist, culturologist, translator, and poet. He held several teaching positions; belonged to a number of learned societies, including the Russian Academy of Sciences and the Russian Biblical Society, of which he was Chairman; and published more than 800 academic studies on a wide range of topics. 
Translator's note: 
[1] The Slavonic vek – here translated as "generation" (following the KJV, which reflects the Greek genea) – has the sense of "age" or "time" (which reflects the Greek aion); in modern Russian it also means "century."
[2] Most likely a reference to, and paraphrase of, Dorothy Sayers' play "The Zeal of Thy House" (1937), Act IV.
[3] Greek: penthountes.