His Beatitude Metropolitan Onuphry, Primate of the Ukrainian Orthodox Church, delivered a sermon during the Divine Liturgy at the square near the Dormition Cathedral of the Kiev Pechersk Lavra on August 28, the feast day of the Dormition of the Most Holy Theotokos, reports the Information and Education Department of the Ukrainian Orthodox Church. In his sermon, the metropolitan said that the Mother of God is our greatest intercessor before the Lord and that people should turn to Her during the times of both sorrow and joy.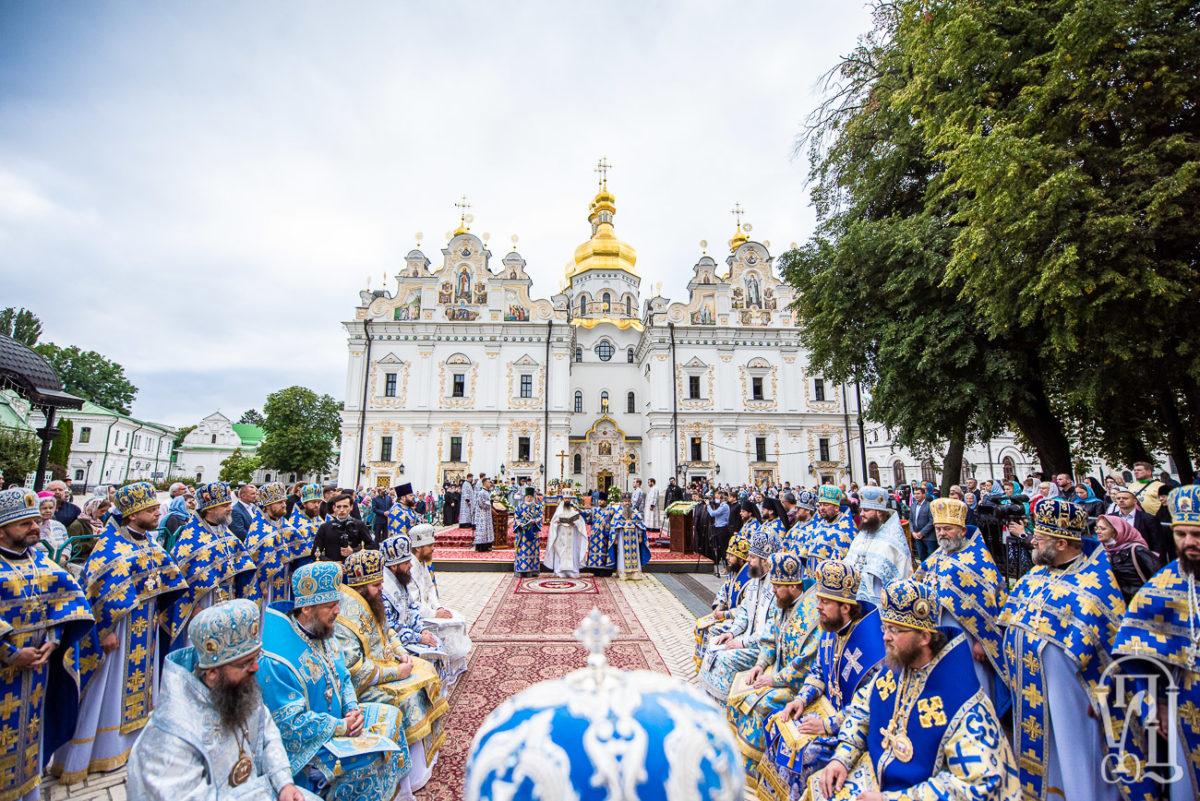 The Primate of the Ukrainian Orthodox Church said that after the Ascension of the Savior to Heaven, His Most Pure Mother became a great consolation for Christians.
"Her life was so beautiful, so noble, so bright that the image of the Mother of God comforts any believer even today. In Her image, we see deep humility, great patience and prayer, modesty, restraint and everything that can and should beautify a person," said His Beatitude Metropolitan Onuphry.
The archpastor noted that it is necessary to pray to the Mother of God in different circumstances.
"In the troparion of the Dormition of the Theotokos we sing, "In giving birth Thou kept Thy virginity; in Thy Dormition Thou did not leave the world". The Mother of God is always with us, we only should turn to Her with prayer, especially when it's hard. She is our most powerful intercessor before God. She is always close to those who are suffering, who are sick. We only need to call Her for help. <…> When something sad and sorrowful happens to us, we must pray to the Mother of God so that She will help us not to despair, so that we endure all of this, as a Christian. Through this we will thus receive the forgiveness of our sins," said His Beatitude Metropolitan Onuphry.
As the Primate noted, it is also important to pray in joy: "We must be grateful to God for everything and ask the Mother of God to pray for us in prosperity as well, when everything is fine with us. In order to maintain balance, and to not become conceited or proud, [we should] thank God humbly for good."
"May the Lord, through the prayers of the Blessed Virgin Mary, bless all of us and help us live on earth so that we deserve the gift of eternal salvation in Christ Jesus our Lord," His Beatitude Metropolitan Onuphry concluded.
After the Liturgy, a religious procession took place around the Lavra. A Service of Intercession was performed at the square with the sprinkling of holy water on the faithful.