April 17, 2013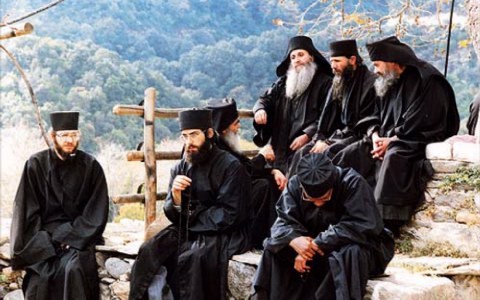 The administration of the Holy Mount met Prime Minister Antonis Samaras in the Maximos Mansion on April 17 to go over financial matters and taxes concerning the famed Mt. Athos.
According to the statement of the Deputy Foreign Minister Constantine Tsiaras who attended the meeting, the dominant theme was the 100-years celebration of the Holy Mount's incorporation into the Greek State:
"The Prime Minister's meeting with the Athonite Fathers' delegation was particularly constructive. The dominant matter of their discussion was the 100-years celebration from Holy Mount's incorporation in the Greek State. Other issues that bother the Holy community and Mount Athos' monasteries were discussed. Through this hard financial situation, the government does whatever possible in order to deal with various matters and to give the possibility of answers to problems that for many years trouble the Holy Mount and the Greek community in general," a statement said.
Mt. Athos is situated in the eastern peninsula of Halkidiki, called the peninsula of Athos, and is a place dedicated to prayer and worship of God, earning it the name Holy Mount. It is a self- governed part of the Greek state, subject to the Ministry of Foreign Affairs in its political aspect and to the Ecumenical Patriarch of Constantinopole as regards its religious aspect.
It has been divided into 20 self- governed territories consisting of a cardinal monastery and other monastic establishments that surround it, according to Mount Athos official website.
Source: Greek Reporter