On January 7, 2014, the station Rossiia televised an interview with His Holiness, Patriarch Kirill of Moscow and All Russia, in which he spoke with the journalist Dmitri Kiselev. Continued from part two.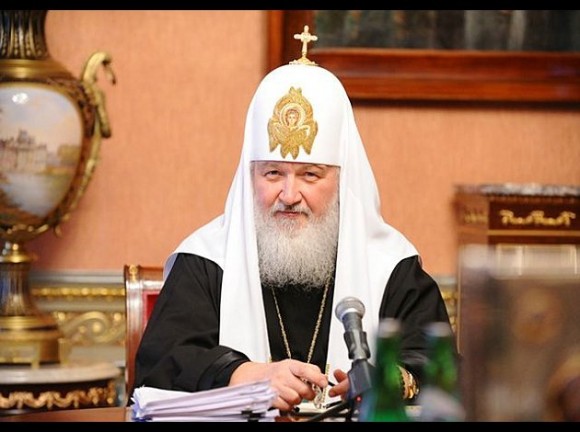 Question: Your Holiness, in both Ukraine and Russia, as well as in other countries undergoing social turbulence, the social network, the Internet, and computers are playing a big role. All this makes our live more virtual, more detached from reality, if you will. How should we relate to this?

Patriarch Kirill: This is also a sign of people's spiritual crisis. This is nothing other than enslavement. It is the enslavement of consciousness and even enslavement of will. I know people who spend days in front of a screen, at a computer monitor or tablet, and are immersed in this reality. This is enslavement of the will. Moreover, this is enslavement of the feelings: one begins to think virtually, to develop virtual novels, virtual tragedies, virtual conflicts.
Open the Internet: there is a continuous virtual conflict. We plunge into "the kingdom of crooked mirrors." Of course, these "crooked mirrors" distort reality reflected by ourselves. Therefore, in some sense the Internet is an image displaying the inner spiritual world of human civilization. This, of course, is a subject for reflection – perhaps in the first place for the Church, which bears responsibility for people's spiritual condition.
Although not just the Church at the present time, because many people have no religious choice and are beyond any ecclesial influence. Therefore this is a challenge to cultural and artistic figures. In the first place, this is a challenge for journalists, to the media, which today has enormous opportunities to influence people's consciousness. But what we see is absolutely unsatisfactory, it is sad, and it is frightening.
Question: I understand that we are not against the Internet, that we are against the dirty zones of the Internet, which there are. But there is dirt not only in the virtual world, but also in the real. Our Earth is not becoming any cleaner. Where have we gotten this philosophy that cleanliness is for janitors? Well, I am very much oversimplifying. How should we deal with this?

Patriarch Kirill: This problem, it seems to me, has two sources.
First, or course, is people's worldview; and second is household culture. I remember a case in the 1990s, when I was invited to speak to residents in one of the regional centers of the Kaliningrad region.  It was a difficult time. It was the 1990s and decay, collapse, and ruin. And I was invited to speak in a building that could hold the maximum number of people. I was met by rather frightened and alarmed mayor, who said: "Everything that will take place will be used as criticism against me; these people will resent what I am doing. But I invited you – he was the initiator – because we somehow need to dot the "i."
We were going through the city with him, going past facades of buildings that were covered in writing, plastered over, with broken glass and broken porches. I come into this hall and the first thing that happens after I made some remarks was an incredible criticism of this mayor for everything that I had seen. I listened and listened as this, moreover, increased in force. Then I stopped the people and said: "I saw all of this. I did not go into the blocks of flats, but I think they were even worse. I did not go into apartments, but I think that they were even worse. I think that there is a mess in the kitchens, that there are unwashed dishes, old shoeboxes in the closets in the bedrooms, and I think the beds are not made and that there are ashtrays with cigarette butts. And who is to blame for this? Fine, we can say that the mayor is guilty that there are spray-painted facades. But the mayor did not paint them, he did not break the glass. You require that the major repair and correct all this, but it is you who did it."
Translated from the Russian
To be continued.