The following is an excerpt from the lecture "Orthodoxy in America," delivered by Aleksei Shipovalnikov on September 28, 2011, at St. Tikhon's University in Moscow. Mr. Shipovalnikov is a composer of church music who makes extensive use of the tradition of znamenny chant. In 1984 he composed one of his most well known pieces, Ave Maria in five movements. He is currently the choir conductor at Saints Peter and Paul Orthodox Church in Jersey City, NY (OCA), as well the conductor of the "Spirit of Orthodoxy" choir.
Russian territory [in North America] stretched from the Russian River [in California] to the very north of Alaska – this was the so-called Russian-American Company.
By the time of the sale of Alaska in 1864 we had already had a seventy-year Russian presence in Alaska. One of the most important figures of this presence, one who enlightened and churched Alaska, was the remarkable person of St. Herman of Alaska.
He lived for forty years on Spruce Island and preached on Kodiak Island, where his relics and cathedral are now located. This was the first Orthodox settlement in America. Here the first church was constructed.
In 1792 the Holy Synod decided to send eight monks from St. Petersburg to Alaska: three hieromonks, one hierodeacon, and four simple monks. It took them eight months to travel to Alaska. Three years later two of them died; the rest, unable to endure, left. Only St. Herman decided to remain with the Aleuts.
What is important to know about Herman of Alaska? That he was the first and primary saint of America. He was not a priest, but rather served as a reader: for forty years he read the daily cycle of services and died without Communion. But this was not his fault, inasmuch as there was no one there who could have given him Communion.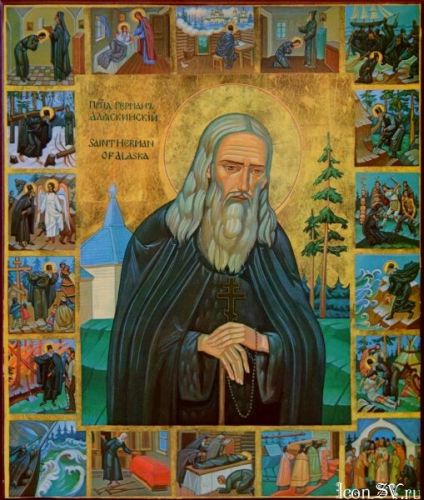 He was a saint already during his lifetime. He life is remarkable: it was not written by his cell-attendant, as is so often the case, but rather by many witnesses of his life. Everything that he left behind in Alaska is as alive now as if he had just left it yesterday.
My large choir and I travelled to Spruce Island on a pilgrimage for the feast day of St. Herman. When the saint died the bears left the island on ice and the birds flew away. When you go there, for three kilometers before the church there is total and absolute silence.
Birds fly there only three times a year; they are called "Hermans" and resemble our bullfinches.
Concerning birdsong:
I am neither a sentimental nor an enthusiastic person. But I alone did not hear and see the following. We saw something that suggests the continuous nourishment of this land by the prayers of St. Herman of Alaska.
Normally a bishop serves in this church on his feast day. Our choir sang at the Liturgy. Actually, we sang not in the church, but outside – because the church is small and there were around 400 people present, so getting inside the church was impossible.
During the singing of the Eucharistic Canon, from the middle of the Creed until "It is Truly Meet," the birds sang very loudly. So loudly that they outsang the choir.
But when we reached "It is Truly meet" it all stopped. And they did not sing after that.
Those who had already been there on pilgrimage said that this is always the case: when one reaches the Eucharistic Canon, the birds sing. This is normal. Just as night follows day.
Kodiak is the center of Orthodoxy in Alaska. People of various nationalities live on the island; they come from the East Coast, from New York, and for the most part are engaged in fishing: they catch graylings and the famous Alaskan salmon (the Aleuts themselves are not big fishermen). They are Catholics, but venerate Herman of Alaska as their own saint. For everyone who lives in Alaska (and it is a vast territory), Herman is their saint – not matter what church they belong to.
Translated from Russian.
You might also like:
Orthodox Saint a Missionary to be Proud of
The Miraculous Intercession of St. Herman of Alaska