Intending to offer up your prayer to God, cast aside all earthly thoughts and cares. Do not engage in the thoughts which come to you at that time, however important or brilliant or necessary they might seem. Render to God the things that are God's and you will have time to render what is necessary for temporal life in its own time. It is not possible to work for God in prayer and at the same time to engage the mind with thoughts and extraneous cares.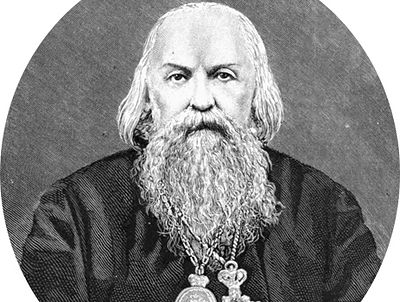 Before you pray, cense your heart with the incense of the fear of God and holy reverence: consider that you have angered God with your innumerable trespasses, which are more apparent to Him than they are even to your own conscience; try to placate the Judge with humility. Be careful! Do not rouse his indignation by carelessness and impudence: It is His good will that even those who are closest to Him, the most pure angelic powers, stand before Him with all reverence and most holy fear (Psalm 89:7).
The garments of your soul should shine with the whiteness of simplicity. There shouldn't be anything complicated in this! Evil thoughts and feelings of vainglory, hypocrisy, people-pleasing, pridefulness and sensuality should not permeate-those dark and evil-smelling spots which stain the inner clothing of praying Pharisees.
Instead of pearls and diamonds, instead of gold and silver, adorn yourself with chastity, modesty, tears of meekness and spiritual reason, and before you receive these tears, adorn yourself with the tears of repentance; adorn yourself with childlike, angelic mildness-this is a priceless adornment! When the King of kings sees this adornment on the soul, He will incline His compassionate gaze upon it.
The prerequisite for attainment in prayer is forgiving every offence, including the most grievous, without any exceptions. And when you stand praying, commands the Saviour, forgive, if you have ought against any: that your Father also which is in heaven may forgive you your trespasses: but if ye do not forgive, neither will your Father which is in heaven forgive your trespasses. (Mark 11:25-26). "The prayer of those who bear grudges is just like seed sown on rock" said the venerable Isaac the Syrian (Homily 89).
Measured, reasonable and constant abstinence from food makes the body light, purifies the mind, gives it energy and therefore serves to prepare it for prayer. Not restraining the belly makes the body heavy and corpulent; it hardens the heart and darkens the mind with many vapours and gases which rise from the stomach to the brain. As soon as the one who is overfed and satiated rises to pray, sleepiness and laziness attack him, many coarse dreams appear in his imagination, he is incapable of coming to tenderness of heart.
An immoderate fast is just as harmful as not abstaining, perhaps even more so. The weakness of the body which is caused by eating little does not allow us to pray in the required measure, nor with the strength required.
The measure of prayer is determined for each one by his way of life and the measure of his spiritual and bodily strength. The widow's two mites which she took to church and amounted to all of her possessions were greater when weighed on the scales of God the Just than the considerable offerings brought by the rich from their excess wealth. Make the same judgement, then, about prayer: determine its measure according to your strength, remember the wise instruction from the teacher of the ascetics: "If you coerce your feeble body into deeds which exceed its strength, you cause darkness to enter your soul and bring it disturbance rather than benefit."
For those with a healthy and strong build, the corresponding prayer is required. "Any prayer," said the same great father, "in which the body is not exerted and the heart does not come to contrition is recognised as unripened fruit because such prayer is soulless" (Homily 11).
If you are occupied with general obligations, or with obediences if you are a monk, and cannot devote as much time to prayer as you would like, do not be dismayed at this: service which is lawful and carried out with conscience prepares a person for diligent prayer and makes up for quantity with quality. Nothing facilitates attainment in prayer more than having a conscience satisfied by activities which are well-pleasing to God.
Carrying out the Gospel commandments disposes the mind and heart to pure prayer which is filled with tenderness and true prayer directs us to think, feel and act according to the Gospel commandments.
Compassion for our neighbours and humility before them, which are expressed in outward deeds and are nourished in the soul, as well as a heart which is pure from mostly vain thoughts and feelings, constitute the foundation and strength of prayer. They are like the wings (Psalm 55:6) on which it soars to heaven. Prayer cannot lift off the ground without these, that is to say, to come from the wisdom of the flesh: it is caught in it like in a net or by force; prayer is disturbed, defiled, destroyed by it.
Translated from the Russian by Nicola Dockray