Fifty years ago, the ceremonious canonization of St John was performed at the monastery by Archbishop Averky (Taushev, +1976); concurrently in San Francisco by St John (Maximovich); at the Synodal Cathedral of Our Lady "of the Sign" in New York by blessed Metropolitan Anastassy (Gribanovsky, +1965) and then-Bishop Philaret (Voznesensky), who was later to become the First Hierarch of ROCOR.
In memory of this event, and in connection with the 60 th anniversary since the founding of the charity St John of Kronstadt Memorial Fund, Metropolitan Hilarion decided celebrate Divine Liturgy at this memorial church, which has been infused with prayer for decades by Russian immigrants. His Eminence was joined by His Grace Bishop Nicholas of Manhattan, Vicar of the Eastern American Diocese and Vice Secretary of the Synod of Bishops of ROCOR; Archimandrite Luke (Murianka), Abbot of Holy Trinity Monastery and a host of other clergymen.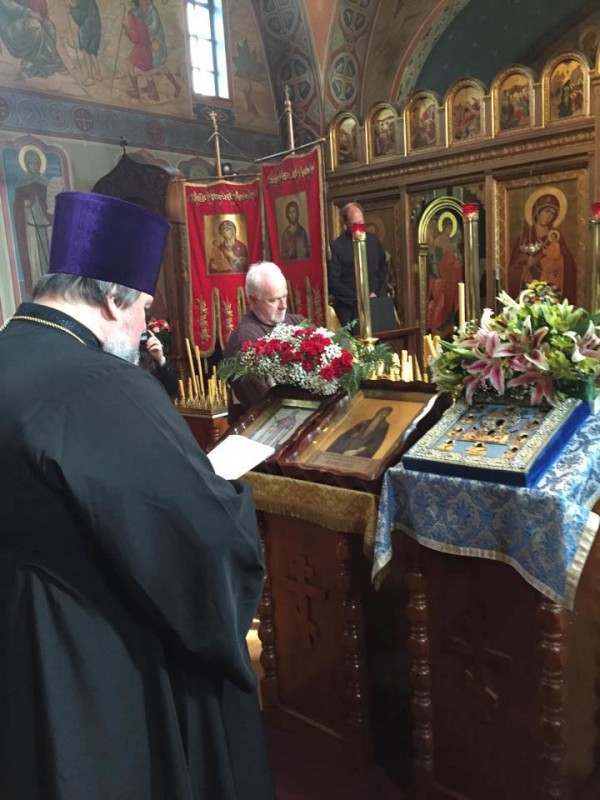 During the minor entrance, His Eminence awarded the ornamented cross to the parish rector, Protopriest Michael Taratuchin, praising his many years of service to the Holy Church.
At the end of services, which included a moleben and procession of the cross around the church, Metropolitan Hilarion delivered a sermon in which he emphasized the importance of the glorification of St John of Kronstadt, not only for the Russian diaspora, but for Russia, which was still under the yoke of communism in 1964. This event gave hope to many Russian people that the prayers of the newly-glorified saint would contribute to the renewal of faith and the Church in the Fatherland. St John did not neglect the Russian people, whose hopes, with God's help, were finally manifested with the fall of communism.
During the formal reception that followed, hosted by the parish, the clergymen and faithful took turns welcoming all guests, and sharing memories of the canonization of the great saint in 1964, and of eminent figures who participated in the event.