The fruit of the acquisition of divine grace is not only good works and virtue but an actual union with God. First, grace works to purify the heart from all sinful passions and inclinations. Those who reach this spiritual state are called dispassionate. This does not mean that one is uncaring or disconnected, but that the energies of the soul have been directed away from anything evil and redirected toward God. The dispassionate person is not compelled by any sinful impulse. Rather, he is free to love and to choose to love God and others without concern for self or for what other may think.
When the heart has been purified, grace then illuminates the heart, giving discernment and spiritual understanding or knowledge. One who is illuminated has spiritual vision and clarity and is able to recognize the true nature of created things and the presence of the Uncreated. Saint Paul refers generally to this spiritual condition when he writes of "the eyes of your understanding being enlightened; that you may know what is the hope of His calling, what are the riches of the glory of His inheritance in the saints" (Ephesians 1:18).
Finally, grace works further upon the heart of the illuminated to complete the union with God, so that "it is no longer I who live, but Christ lives in me" (Galatians 2:20). The Holy Church Fathers use the term theosis or deification to describe this exalted spiritual state of union with God by grace. As the human nature of Jesus Christ was fully infused and saturated by the divine energies flowing from His Divine Nature, so it is possible by grace for human beings to become vessels of divine grace.
The Saints use the analogy of iron and fire, with iron representing human nature and fire, Divine Nature. When iron is placed in fire for some time it becomes red hot, having acquired the properties of fire. However, the iron has not become fire by nature but through continuous contact with the fire.
Similarly, one who by God's grace has been fully united with Him is permeated with His Divine life in such a way that he exhibits spiritual gifts, and fruits akin to God Himself. As the iron placed in the fire retains the properties of fire when removed, so the humanity of the spiritually perfect is united and mingled with the fire of divine life. He has become united with God in a permanent and abiding way and experiences His Uncreated Light as a continuous (and sometimes visual) reality. However, as the iron does not become fire itself, but participates and shares in the properties of fire, so human nature participates in God by grace, not by nature. Only the humanity of Christ received deification (theosis) by nature as a result of its union with His Divine Nature.
These spiritual stages are not mutually exclusively or perfectly compartmentalized; there is progression (or digression) and overlap. The Holy Church Fathers teach that God's grace is single; there are different kinds of grace. However, grace works in each person according to his current spiritual condition.
The vast majority of Christians are still struggling for purification of the heart and should never imagine or measure ourselves as having reached great spiritual heights. Those who have attained great sanctity are always characterized by extreme humility.
THE CHURCH HOLY FATHERS ON GRACE
Saint John Cassian (360-435 A.D.), commentary on 1 Corinthians 15:10.
"When he says "I labored," he shows the effort of his own will; when he says yet not I, but the grace of God, he points out the value of the Divine protection; when he says with me, he affirms that grace cooperates with him when he is not idle or careless, but working and making an effort."
In all these (scriptural quotations), there is declaration both of the grace of God and the freedom of our will, because even of his own activity a man can be led to the quest of virtue, but always stands in need of the help of the Lord.
For these two, that is, both grace and free will, seem indeed to be contrary to each other; but are in harmony. And we conclude that, because of piety, we should accept both, lest taking on of these away from man, we appear to violate the Church's rule of faith."
+
Saint Maximus the Confessor (580-663 A.D.)
"The Divine Logos/Word of God the Father is mystically present in each of His Commandments….Thus, he who receives a Divine commandment and carries it out receives the Logos/Word of God Who is in it; and he who receives the Logos/Word through the commandments also receives through Him the Father Who is by nature present in Him, and the Spirit Who likewise is by nature in Him. "I tell you truly, he that receives whomever I send receives Me; and he that receives Me receives Him that sent Me" (John 13:20). In this way, he who receives a commandment and carries it out receives mystically the Holy Trinity. (Second Century on Theology, 71).
+
Saint Seraphim of Sarov (1754-1833)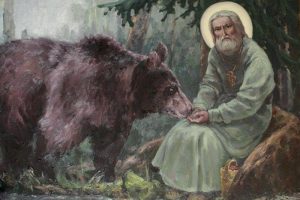 Prayer, fasting, vigil (Agrepnia) all other Christian activities, however, good they may be in themselves, do not constitute the aim of our Christian life, although they serve as the indispensable means of reaching this end. The true aim of our Christian life consists in the acquisition of the Holy Spirit of God. As for fasts, and vigils, and prayer, and almsgiving, and every good deed done for Christ's sake, they are only means of acquiring the Holy Spirit of God. But mark, my son, only the good deed done for Christ's sake brings us the fruits of the Holy Spirit. All that is done for Christ's sake, even though it be good, brings neither reward in the future life nor the grace of God in this.
That's it, your Godliness. In acquiring this spirit of God consists the true aim of our Christian life, while prayer, vigil fasting, almsgiving and other good works done for Christ's sake are merely means for acquiring the spirit of God.
In the Parable of the wise and foolish virgins, when the foolish ones lacked oil, it was said: "Go and buy in the market." But when they had bought, the door of the bride-chamber was already shut and they could not get in…I think that what they were lacking was the grace of the All-Holy Spirit of God. These virgins practiced the virtues, but in their spiritual ignorance they supposed that the Christian life consisted merely in doing good works. By doing a good deed they thought they were doing the work of God, but they little cared whether they acquired thereby the grace of God's Spirit.
Of course, every good deed done for Christ's sake gives us the grace of the Holy Spirit.
And if we were never to sin after our Baptism, we should remain forever saints of God, holy, blameless and free from all impurity of body and spirit. But the trouble is that we increase in stature, but do not increase in grace and in the knowledge of God as our Lord Jesus Christ increased; but on the contrary, we gradually become more and more depraved and lose the grace of the All-Holy Spirit of God and become sinful in various degrees…Then through the virtues practiced for Christ's sake he will acquire the Holy Spirit Who acts within us and establishes in us the Kingdom of God.
The grace of the Holy Spirit is the light which enlightens man. The whole of Sacred Scripture speaks about this…Thus the grace of the All-Holy Spirit of God appears in an ineffable light to all whom God reveals its action. (Conversation with Motovilov). (Source: Know The faith. A Handbook for Orthodox Christians and Inquirers by Rev. Michael Shanbour)