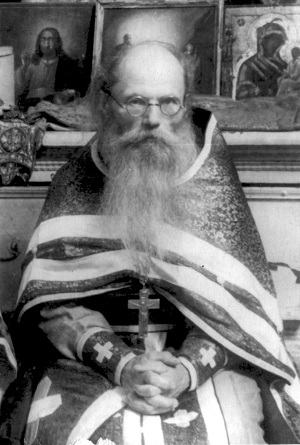 In the Name of the Father, and of the Son, and of the Holy Spirit!
The first week of Great Lent is passing by. Today many people will come to Confession so that they can receive the Holy Mysteries tomorrow. But, my God, let us take account of what we are preparing to approach! The Lord Almighty says: Take, eat; this is My Body… This is My Blood (Matthew 26:26, 27).
He gives not only an invitation, but also a warning: Except ye eat the flesh of the Son of Man, and drink His Blood, ye have no life in you (John 6:53). No one desiring salvation can refuse Communion. But how can I approach Thee, O Lord? I hear the voice from the altar: "Holy things are for the holy," but I am entirely in sin. How can I not be fearful, when Thy saints did not consider themselves worthy to approach the Holy Mysteries? St. Basil the Great implores: "I know, O Lord, that I partake unworthily of Thine immaculate Body and Thy precious Blood… having submitted my whole self to sin, and made myself a slave of pleasure… Accept, then, even me, O Lord, Lover of mankind, as Thou didst accept the sinful woman, the thief, the publican, and the prodigal" (fifth and first pre-Communion prayers).
And here is how St. John Chrysostom asks the Lord to condescend to his weakness: "O Lord my God, I know that I am not worthy… that Thou shouldest enter beneath the roof of the temple of my soul, for all is empty and fallen… and as Thou didst consent to lie in a cave and in a manger of dumb beasts, so consent also to lie in the manger of mine irrational soul and to enter my defiled body" (second prayer). St. Symeon the New Theologian likewise implores: "From sullied lips, from an abominable heart, from a tongue impure, from a soul defiled, accept my supplication, O my Christ… Wash me with my tears, and purify me with them, O Word; remit also my transgressions, and grant me pardon. Thou knowest the multitude of mine evils, Thou knowest also my sores, and Thou seest my wounds… Wherefore, I fall down before Thee, and fervently cry unto Thee: As Thou didst receive the prodigal, and the sinful woman who drew near, so receive me, the prodigal and profligate, O Compassionate One" (sixth prayer).
If great saints, full of the Holy Spirit, saw themselves as pitted by sin and completely unworthy of approaching the Holy Mysteries, how then can we dare to receive them? What should we do? Here the Merciful Lord, Who desires the salvation of all who are perishing, replies: "Repent!"
St. John the Forerunner, the greatest of all born of women, called for repentance by God's command; the Lord also commanded His Apostles to preach repentance when sending them out to preach. Repentance is the first commandment of the New Testament, the first commandment of the Lord Jesus Christ. Repentance is God's great gift to people, the means of being cleansed from sin, and the door of salvation. Repentance is a manifestation of God's ineffable love for fallen humanity. Repentance is God's all-mighty power that heals all the sinful wounds of the sincerely repentant.
By repentance the publican left the temple justified. By the repentance of the prodigal son, everything that had been squandered was restored to its former dignity. By repentance the repentant thief was the first to enter Paradise. By repentance the Apostle Peter regained his apostleship and St. Mary of Egypt was cleansed of her thousands of mortal sins. Indeed, everyone who attained holiness did so by repentance. Let us, too, offer our sincere repentance to the Lord, recognizing our unworthiness before God, weeping for our sins before Him. Let us confess them before a spiritual father, concealing nothing and justifying ourselves in nothing. Let us resolve henceforth to resist sin with all our might. Then the Merciful Lord will forgive, cleanse, and extend His unerring promise to us: though your sins be scarlet, they shall be as white as snow (Isaiah 1:18). Then we will be vouchsafed to receive without condemnation the Holy, Dread, and Life-Giving Body and Blood of our Lord and Savior Jesus Christ.
Having been vouchsafed this great gift of God's love, we should by all means guard against offending the Lord by some inadvertent sin, that He not depart from us.
We all need to know what will happen to us in that case. The Lord Himself warns us concerning this: He that is not with Me is against Me: and he that gathereth not with Me scattereth. When the unclean spirit is gone out of a man (by repentance and Communion), he walketh through dry places, seeking rest; and finding none, he saith, I will return unto my house whence I came out. And when he cometh, he findeth it swept and garnished. Then goeth he, and taketh to him seven other spirits more wicked them himself; and they enter in, and dwell there: and the last state of that man is worse than the first (Luke 11:23-26).
Thus, brethren, after Communion be sober, be vigilant; because your adversary the devil, as a roaring lion, walketh about, seeking whom he may devour (1 Peter 5:8). Amen.