Much has been said regarding the famed Yad Vashem awards given to a number of Roman Catholics and Protestants. What needs to be noted however, is that there were just as many Orthodox Christians who were participants of rescuing Jews from the Nazi death squads and who selflessly did so at the expense of their own lives in a number of cases. May God honour their blessed memory as I list, although still growing, of a number of these blessed souls.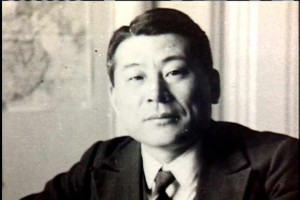 Chiune Sugihara (1900-1986)-This Japanese diplomat in WWII was a convert to the Orthodox Church due to his contact with the Russian Orthodox Church via his first wife. Despite leaving his first wife, he never wavered in his Orthodox Christian faith and managed to lead his second wife, Yukiko, to the Orthodox Faith. He and Yukiko, worked tirelessly to write passports via their embassy in Lithuania, to allow many Polish Jews to leave the region to escape Nazi death camps. When he was asked as to one of his motivations for his actions, he mentioned his faith in God. He was discharged from his position unceremoniously after the War, and was only to be discovered later by one of the Jews he rescued, in Russia. He was later awarded Yad Vashem by Israel in 1985, one year before his death, but was too ill to receive the award and thus his son received it on his behalf. His wife, Yukiko, mentions that she had read the Book of Lamentations in the Old Testament, and thus was motivated to ask her husband to save the Jews as well in Lithuania.
Archbishop Damaskinos of Athens (1891-1949)-This blessed Archbishop of Athens, when Greece fell under Nazi occupation in 1941, did everything possible to rescue Jews from death. He is renowned for writing a letter to the occupying government protesting atrocities committed against Jews and urged the government to desist from arresting them or committing any harm towards them. In addition, when asked to put the names down of Jews to be arrested and taken away by the Nazi forces for throwing into concentration camps, he put his own name on the list. In addition, he was known for quietly urging a number of congregants to issue baptismal certificates for Jews to allow them to escape.
Metropolitan Chrysostomos of Zakynthos (1890-1958)- Similar to the above, also risked his life to save the Jewish community in Zakynthos, Greece.  He and also Mayor  Loukás Karrer, refused to comply with Nazi demands of listing the Jews in the island for deportation and instead submitted their own names. In addition, they made sure that the Jews were distributed throughout various villages to prevent capture. Both were awarded by Israel in 1978 with Yad Vashem for their good work.
Angelos Evert (1894-1970)- A police officer during the Nazi occupation of Greece, he was inspired by Archbishop Damaskinos to act selflessly for the Jews and was also responsible for issuing Christian identities for Jews in Greece. Awarded in 1969 by Israel with Yad Vashem.
Prince Constantin Karadja (1889-1950)-Serving as a diplomat in Romania under Nazi occupation, he personally organised the saving of 10,000+ Jews in Romania using all his diplomatic ability. He was awarded Yad Vashem posthumously in 2005.
Princess Helen of Greece and Denmark (1896-1982)- She was married to King Carol II of Romania and was renowned for saving Jews in Romania. And caring for the wounded under Nazi occupation. For her righteous work, she was also awarded Yad Vashem by Israel too.
Amongst the 2 most prominent churches renowned for helping and rescuing Jews are the Bulgarian and Serbian Orthodox Church. There were many clergy and laymen that risked their necks to rescue Jews from Nazi deportations and atrocities.
In the Bulgarian Orthodox Church, there is Patriarch Cyril aka Konstantin Markov Konstantinov (1901-1971), who personally risked his life to stop the Nazi deportation of Jews in Bulgaria.
Dimitar Peshev (1894-1973)-Although he was a politician that signed a law in Bulgaria that supported anti-Jewish behaviour due to Nazi occupation, yet actions spoke louder than words. He was a friend to the Jewish community in Bulgaria, and when he learnt from a Jewish friend of a Nazi attempt to deport Jews in Bulgaria to various death camps, he personally went out of his way to stop this. He worked to sabotage Nazi operations in this regard and even wrote letters to stop any further anti-Jewish measures. He was finally recognized by Israel in 1973 and was awarded Yad Vashem.
Maria Skobtsova (1891-1945)- Also has been canonised by the Russian Church as St. Mary of Paris. Also known by many as Mother Maria. She became a nun despite coming from a prominent family, and as a nun in 1940, when France was occupied by Nazi Germany, personally engineered the saving of Jews in France through her convent. She and Father Dimitri Klepinin (who was also canonised a Saint by the Russian Church as well) worked tirelessly to save Jews from death camps and to organise rescue missions. She and Father Klepenin organised baptismal certificates to be issued for Jews in France. Both she and Father Klepenin were martyred in Nazi death camps. She chose to die in the place of a Jewish woman in 1945. She was issued Yad Vashem posthumously and was canonized along with Father Dimitri Klepinin in 2004 by both the Ecumenical Patriarchate of Constantinople and also by the Moscow Patriarchate.
Father Dimitri Klepinin (1904-1944)-Canonized as St. Dimitri Klepinin in 2004, he worked alongside Mother Maria Skobtsova to rescue Jews. Serving under the Russian Orthodox Church as was St. Mary of Paris, he was initially serving the émigré community in France. Nazi occupation changed a lot for him and saw him being arrested for issuing false baptismal certificates to Jews and to be deported to the death camp of Dora, near Buchenwald. He was posthumously awarded in 1987 Yad Vashem by Israel and canonized by the Ecumenical Patriarchate as well as Moscow Patriarchate alongside Maria Skobtsova.
Alexej Alexandrovich Glagolev (1901-1972)-A Ukrainian Orthodox priest that was awarded posthumously along with his wife and daughter in 1991 with Yad Vashem by Israel. Their son was awarded nine years later with the same. He and family were personally responsible for organising rescue of Jews and issuing them with baptismal certificates. He often faced beatings from the Nazis and his family also faced constant persecution too.
Since 2007, 127 Serbian nationals, and members of the Orthodox Church, have been listed as recipients of Yad Vashem. What can be said, is that the Serbian Orthodox Church played a great role in the rescue and saving of Jews from both Nazi German forces and the Croatian Ustache.
This list is by no means complete. However, what is certain, is that all these selfless men and women, are jewels of the Orthodox Church to the whole world. May their memory be blessed and eternal and may God forgive them of all their sins, both voluntary and involuntary. Amen