Babies Don't Even Cry Here
There were two brothers in our department – one of them was three years old, the other was eight months old. The kids were brought into hospital exhausted. During my very shift, their mom and dad came and signed the refusal papers. Then we found out that their another child – a five-year-old girl – lives in an orphanage. But they do not care.
I would advise those who wish to abandon their child to just go to the department and see how their children would live without them. But it only makes sense if the parents are sane.
Babies don't even cry here, you know. It is so weird. The nurses will give them a pacifier and leave, and when the kids do not see any kind of reaction, they just stop crying.
The hardest part is leaving. You realize that you cannot stay and replace their mom. I remember I visited Gosha – a seven-year old boy who was in the infectious disease ward – I brought him books and entertained him the whole shift. The boy was wonderful! So clever. And when we were bidding farewell, he was crying. It turned out that his sister was in another ward – they were removed from their family. They are in an orphanage now.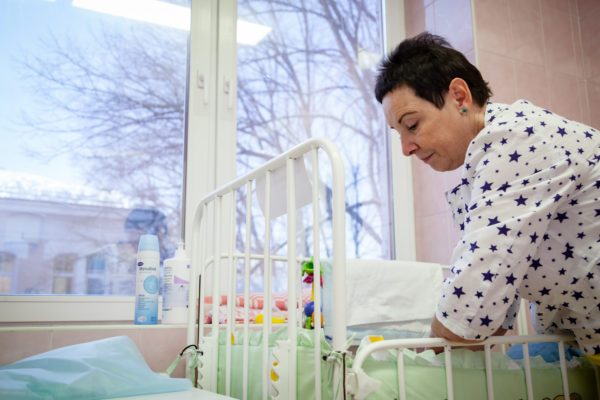 Children often tell us that they have a brother or a sister, and then it turns out that there are five of them and they are all unwanted.
There was a teenage girl Alina and I tried to visit her more often, brought her some bracelets and rings, we even called each other.
I Came with Fear, but We Hugged in the End
That is why I decided to help children – they are the most vulnerable and irresponsible for their actions. Once I had a business connected with pharmaceutics and we helped one monastery in the Moscow suburbs, which had an orphanage. Later the business failed.
I retired (I'm 59 now), soon due to my health condition I could not donate blood for the regional children cancer center and I have been a donor since university. And if I cannot help with money and health, then I can with personal participation.
That is how I found "Volunteers to Help Orphans" fund and became a volunteer in November 2016.
In the first lectures we were told about the obstacles a volunteer might encounter and I had a fear: what if I fail or hurt the child. And for some reason I always was afraid of people with mental abnormalities – and suddenly at the very beginning of volunteering I found out that I had to go to already an adult girl with a complex mental illness. At first, she was reluctant to engage, but then we spent a wonderful day together and we hugged in the end.
Our Department is a Children's Hospice, Only There are No Parents Here
Four months ago the palliative care department which was in another place before was transferred to the main hospital building and a coordinator asked those with plenty of experience to volunteer there.
The first two shifts were shocking from the moral point of view. When you see what's happening… But there were no thoughts of leaving. Although not only I have not seen such pathologies, but also I have never read about them.
These are bedridden and tube-fed kids…In fact it is a children's hospice, only there are no parents here. And if the problem with "lively" children from other departments is where to get clothes and toys and how to play with them, here we have to provide maximum comfort and painless care.
Since they have no brain activity and they do not express their emotions, you think "Is he better or worse?" when, for example, you turn the child over and he starts to moan. You just try to reassure yourself that he will be better after this procedure. And it's such a joy to see at least some reaction, a smile…
As volunteers we have no right to request children's personal data, and their appearance does not always correspond to their age. It's a good thing when there is sign on the bed, such as "Arseny, 3 years old", who only weighs 5 kg.
One Day a Child Died on My Shift
We must always stay ready for our children's passing away, although being ready for it is impossible. Once a week, someone dies. We have a Whatsapp chat room "Komanda Palliativ (Palliative Team), in which we share news: we write about what has been done or not done in time. For example, Arsenii was treated with this and Vova with that. We talk about the children's conditions there.
Sometimes, messages about a child's death appear there. The last message of this kind is "Arisha passed away in the morning". Every member of our team has witnessed a child's death on their shift. One day this happened to me as well, while I was busy with other children…
It is one thing when a child is at home with their parents, who worry and care about them throughout their treatment. Lying here, all alone, in a ward is a completely different story.
My shift takes place on Wednesdays, once a week, but I always stay tuned in the chat rooms. Throughout the day messages about work appear, both in the chat rooms of the Volunteers Fund and of our department. We are constantly worried about the kids.
It gives me joy to see someone visiting their children. I remember one grandmother's visit in particular. She tied her granddaughter's ribbon and stroked her leg. The girl may have not even recognized the woman, but the care itself is priceless.
Yes, sometimes you have to turn the children over, so I often bring a belt for my back. Once I just fell on the bed after a seven-hour shift, during which I played with children in another department at first, and later came to assist in mine. However, we have a wonderful 27-year old man by the name of Vitya. When something especially demanding is to be done, everyone relies on him. Soon I will take the Sisters of Mercy course which is supported by the fund. It is always useful to learn some nuances about treatment.
Life Experience Helps Me Cope
Some people could not manage to work in the palliative department. One of the volunteers wrote, "I want to be with the living children".
Life experience is the only thing that helps me cope. I have already witnessed so much, therefore I perceive such illnesses simply as a fact, without unnecessary tragedy.
However, any volunteer working with the terminally ill people, especially children, raise a question: is this the right thing to do? Should children be on life support if we know for certain that they cannot be cured? Maybe it will only prolong their suffering?
It is not for us to decide.
This moral aspect is harder than any physical labour. When you are young, you try to ignore thinking about death, but when you have to face it constantly, you cannot possibly stay an atheist. This should be explained in any way, either by karma or by the Divine Providence.
I Turn off My Brain and Rely on My Intuition
Palliative care uses purely medical approach: you should help. It has already become a classic saying, "We will not save, but we can help".
One of my personal heroes is Mother Teresa. During my visit to India, I went to see her monastery. People often judge Mother Teresa, but few actually saw, in which conditions she worked. Helping a person pass away more easily was one of her main ideas.
I try to approach my job impassively, in other words I simply turn off my brain and rely on my intuition. Doctors are often called cynical, but now I understand that if you are too emotional, you will just burn out.
Moreover, when doctors have 50 children and a vast number of assignments, it is physically impossible for them to pay attention to every child, although there are still people who are simply indifferent. Actually, the most active person in the paediatrics is Lisa, the caretaker. She knows everything, including who is hungry and who their parents are.
After my shift, I usually reflect on whether I did everything and what can be improved next time. Everyone prefers their own kind of distraction. Cooking for me is like meditation.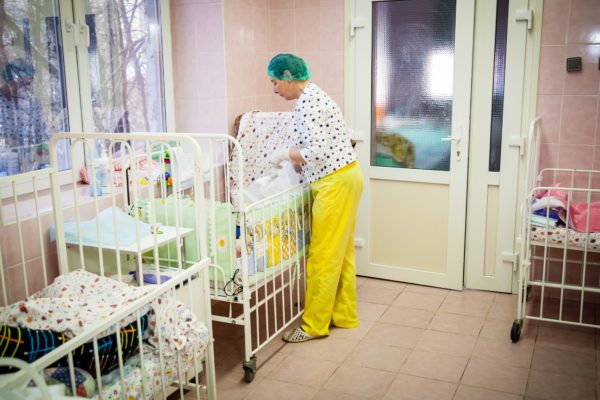 Children and Grandchildren Respect and Support Me
My family was not surprised by my decision to volunteer. I have three grandsons: one is seven years old, the other is five, and the third is one month old. Naturally, I devote my time to them.
However, both children and grandchildren should know that their grandmother also has social duties apart from domesticity. I personally find it right. One should not concentrate solely on their personal life. One should be concerned with bigger problems than simply taking their children for a walk or growing carrots in their backyard.
My son had a friend when they were young, who was a slacker. However, he actively participates in volunteer work at the present time. If my children learn that some things are needed in the hospital, they bring them. The volunteer work still attracts people and the circle gradually widens. I think that working in the fund with such children will greatly strengthen young people's ideas not merely about family, but also responsibility.
This article was translated from Russian by Julia Frolova and Kirill Nikolaev.