The Lord said, "Whosoever will come after Me, let him deny himself, and take up his cross, and follow Me. For whosoever will save his life shall lose it; but whosoever shall lose his life for My sake and the Gospel's, the same shall save it. For what shall it profit a man, if he shall gain the whole world, and lose his own soul? Or what shall a man give in exchange for his soul? Whosoever therefore shall be ashamed of Me and of My words in this adulterous and sinful generation; of him also shall the Son of Man be ashamed, when He cometh in the glory of His Father with the holy Angels." And He said unto them, "Verily I say unto you, that there be some of them that stand here, which shall not taste of death, till they have seen the Kingdom of God come with power" (Mark 8:34-9:1).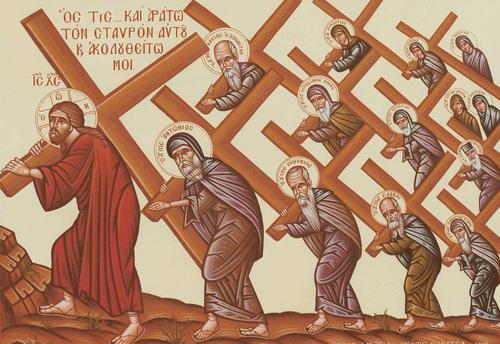 In the Gospel there is such a dreadful place that, whenever someone reads it, it always seems to him like the Dread Judgment: Whosoever will come after Me, let him deny himself, and take up his cross, and follow Me. These are dreadful words, which perfectly reflect the essence of the spiritual life. They ultimately expose each one of us, ultimately pierce each one of us through, and render each one of us perfectly answerless before God. Because the Cross of Christ perfectly defines the essence of man, determines the core of his being, and defines his life.
Each one of us bears this cross on himself; each one of us defends ourselves by this cross. By the word "cross," each one of us understands something that is his own, of course. Basically, this is a burden of unsolvable problems that kill us, as it were, and do not allow us to live, crushing us in every way. We call these problems our "cross" and are tormented by them. And for us, in our human understanding, a cross is torture.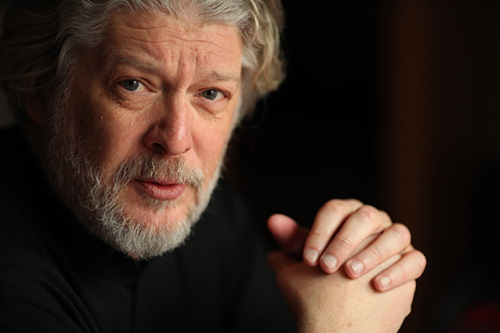 A cross is indeed torture. It is a means of torture; it is an instrument that in antiquity was the most torturous means of execution. This really is so. But this means of torture is a joy for Christians. We sing: "Through the Cross, joy has come into all the world." And we in every way venerate this cross, wear it, and strengthen our faith by it. And yet, what is a cross? How can we live with this cross? What does it mean in the life of a Christian?
A wise Christian said: "Whoever lives without the Cross, lives without hope." Because the life of such a person will be a constant departure from God; it will be a constant hiding inside the vanity of this world, a desire to cast off his responsibilities, to lose his head, and to give himself over only to external pleasures and illusory dreams. Such a person has no hope, no hope whatsoever.
But if one bears one's Cross, then one has such hope. Because living according to the Cross of Christ is not simply a matter of starting one's life from scratch; it is not simply a matter of beginning one's movement to Christ from nothing. It is the opportunity to follow Christ from the most frightful abyss, to follow Christ and change one's life from a condition in which one can no longer call oneself human. This is possible only with the help of Christ's Cross. This is a Cross that each of us is obliged to carry for our Lord. This gives us tremendous hope that we who are gathered here, who are so infirm and are so often completely embittered by insoluble problems in our lives and deformed by past sins, have the opportunity, by taking up our Cross, to change completely, to transform completely, to escape from death to life, and to be reborn and resurrected in our Lord Jesus Christ. And this is the greatest joy and happiness of the Christian life. Because our life is salvation in our hope, because the Lord Himself, by the Cross on which He was crucified, descended to such depths of fallenness that He impaled by this Cross the entire core of human despair and sin. Nothing remained that was not conquered by this Cross, that was not broken by this Cross. And there is nothing left that has not been secured by this Cross, that has not been reached through the thirst for life and immortality.
Therefore our Cross is our only hope for salvation, our only trust that our life will change, if we take up this Cross and follow Christ therewith. This also means being able to deny ourselves. This also means being able to throw away everything that we call our own, but which in fact is not our own: our sins are not our own; our passions are not our own; our brokenness of soul and mortality are not our own. This is not what the Lord has given us, because this bears no relationship to God; whatever bears no relationship to God can have no relationship to us. And no matter how rooted it is in us; no matter how much it has become our mask, distorting our real face; no matter how much it has become our skin – it is not ours. We need to take it off, no matter how painful and terrible it might be. If we are able to uncover ourselves in this way, to deny ourselves, not being frightened of ruining our contrived, empty, and meaningless life, then we will gain Christ; then we will acquire the true and eternal life that our Lord has granted us by His Crucifixion and His Resurrection. Amen.
Translated from the Russian.