Holy Thursday is the day on which we commemorate Jesus's 'last supper' with His disciples, His washing their feet, His giving the 'new commandment' to love each other as He loves us, and His inauguration of the New Covenant in His blood. In this sublime high-priestly act, He created the Mystery of the Eucharist, which we reenact at His command and partake of Him as He instructed us.
No gift can compare with the gift which our Savior gave us when, for our sake, He voluntarily died on the cross in our place, taking upon Himself the punishment for our sins (IS 53:3-6; HEB 9:27-28) and expunging the record of our disobedience by His own perfect obedience (COL 2:9-15). No mystery can be more mysterious than the Holy Mystery in which Christ gives us to eat and drink the same Body tortured on the cross, the same Blood shed for the world's salvation.
There are heresies which deny that the Eucharistic Bread and Wine are the very Body and Blood of our Savior, but these are perversions of understanding, a deliberate rejection of the most transparent words of the Gospel, which Jesus (uncharacteristically) insists are literally true when their apparent absurdity causes even some of His closest disciples to complain: 'This is a hard statement; who can listen to it?' (JN 6:27-69). Many of them abandoned Jesus because they simply could not accept the reality of His instruction; in their own way, they were perhaps a little more honest than some modern heretics who insist on having Jesus on their own terms rather than His, that He really couldn't have meant what He said, at least not literally.
It takes the full length and breadth of the authentically orthodox catholic Christian Tradition to determine what is literal and what is figurative; heretics don't usually apply the standards of the Tradition, which is why they end up heretics, or at least heterodox rather than orthodox.
We are warned: 'Unless you eat the Flesh of the Son of Man and drink His Blood, you have no life in you. Those who feed on My Flesh and drink My Blood have everlasting life, and I will raise them on the last day, for My Flesh is true food and My Blood is true drink. Those who feed on My Flesh and drink My Blood remain in Me, and I in them. Just as the living Father sent Me, and I live because of the Father, so whoever feeds on Me will live because of Me. This is the Bread Which came down from Heaven; it is not like that bread which your ancestors ate, and still died. Rather, anyone who eats this Bread will live forever' (JN 6:53-58; cf EX 16, NUM 11, DT 8, etc.)
So-called 'Christians' who reject this plainest of Christ's instructions in this matter deserve our sincerest prayers, since they are victims of a Satan-inspired plot to deprive them of communion with their Lord.
Even among the orthodox there have been — and continue to be — extremes of practice regarding the reception of the Eucharistic Body and Blood of Christ.
When an American monk expressed shock at seeing no one approach the Holy Cup during the Divine Liturgy for a parish's patronal holy day, a senior priest explained that his (ethnic adjective deleted) Orthodox Christian people receive Holy Communion just three times: when they get married, when they're about to have surgery, and just before making a trip by airplane.
This attitude betrays a fearful, childish, even superstitious understanding of the Eucharist, but the saddest aspect of this conversation was that the priest, a man of long experience, was completely unaware of the irony of his position, which he, as a pastor, might have used to educate his people better in the faith instead of passively acknowledging their ignorance as normative.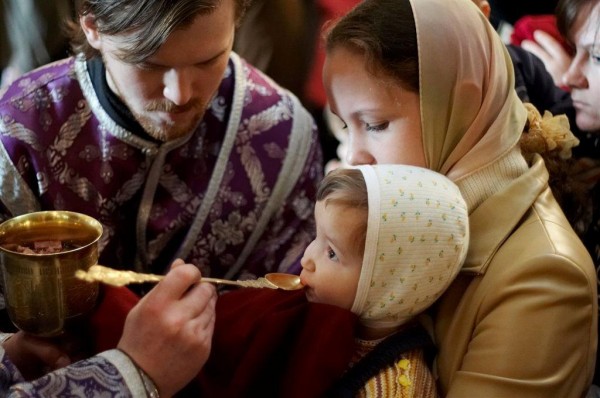 While the clergy beg the Lord's forgiveness of their 'own sins and the ignorance of the people' (first prayer of the faithful, DL of St Basil), they should be aware that ignorance is not a sin: if the people are ignorant, the clergy are at fault. Pastors must help overcome ignorance rather than perpetuate it, especially regarding essentials such as our participation in Holy Communion; the laity must be encouraged to accept and believe the authentic instruction their pastors provide. And the pastors and teachers of the orthodox — directed by the bishops — must be certain to attain the theological, educational, moral, emotional maturity to feed their flocks and lead them to Christ, the Good Shepherd ('pastor') of us all.
While the bishops are ultimately responsible for the instruction of Christ's flock, clergy as well as laity, we are all accountable to each other and to Christ. We are reminded on this holy day of how greatly our Lord loves His Church, His own Body and His Bride. Loving each other as He loves us, we freely choose to 'bear each other's burdens, and so fulfill the law of Christ' (GAL 6:2).Underlying the anecdote about people in a certain ethnic group's receiving Holy Communion under only three circumstances is a serious practical and theological distortion which elevates 'preparation' above the experience for which we are preparing, or cultivates a sense of unworthiness which is almost impossible to overcome. This is a pastoral problem in need of serious reflection and correction.
We must describe as undesirable, and even dangerous, the thick and crusty layer of folk customs which has grown over the infrequent participation in Holy Communion by the laity. The legitimate awe we should experience as we approach the Holy Cup which contains our very sustenance has sometimes been distorted into a dauntingly complicated and discouraging set of rituals which exclude all but the most daring and fortitudinous (and small children, since Jesus said 'Let them come!') from frequent participation in the Eucharist.
Under such conditions, the customs surrounding 'preparation' sometimes take on a life of their own and might easily be interpreted as superstitious, even idolatrous. The very fact that our Lord made this most necessary and vital communion of His Eucharistic Body and Blood so accessible by coming to us in the form of food should encourage us to understand that He intends to make it easy, not difficult. Jesus is not patient with religious authorities who make it hard for people to come to Him (MT 23). Still, the pastors and teachers of the Church are entrusted with very serious responsibilities in their stewardship of the Holy Mysteries, and they deserve our sincerest support — in prayer and in more obviously practical ways — for their faithful service, even when we don't quite see things from their perspective.
As bad as it is to enforce certain rules making it difficult, if not impossible, for many people to partake of the Eucharist, a cavalier and casual attitude toward Holy communion is just as much of a tragic distortion in the opposite direction. While it is incorrect to insist, as a general requirement, that each Holy Communion be preceded by several days of strict fasting and confession, it is just as wrong to approach the Holy Cup thoughtlessly and with no preparation at all. The details must be worked out by individual Christians with their spiritual mothers or fathers, usually their parish priest, who is — by definition — the spiritual father of all the people in the parish he serves. It is only with his blessing that the laity may seek another spiritual father.
No matter what we do to prepare for Holy Communion, it is a most serious error to think that the performance of certain ritual requirements can somehow make us 'worthy' to participate in the Holy Mysteries of Christ's Body and Blood (cf 'Confession and Communion' in Documents of the OCA). The Eucharistic Body and Blood of Christ are given to us not because we have done (or can do) anything to deserve communion with Him, but because Christ, in His love for mankind, has given us that which we most need, but which we did not even know to request. We are all sinners, and we will die permanently, utterly, never to be raised again, unless we accept the salvation God sends us in His Christ.
In the prayer which our Lord Himself taught us, we say: 'Give us today the Bread we need' (MT 6:11). We aren't asking for 'daily bread' for our dining room tables, or for 'Wonder Bread' in the red, white and blue wrapper. We are asking for a Wonderful Bread, the Bread which is truly a wonder of God's mercy, the Bread which will go far beyond feeding us for a day, the Bread which will feed us now and forever, the Bread which will sustain us until the dawn of the never-ending day of Christ's reign.
On this day it is also our custom to prepare the reserved Holy Gifts, from which particles may be taken to the sick and dying, the shut-ins and others who are unable to attend the Divine Liturgy and receive Holy Communion in the congregation. The reserved Holy Gifts may, of course, be prepared whenever local needs require, but there is a special connection on this day with the eucharistic banquet ('thanksgiving') shared by our Lord Jesus Christ and His apostles on that first Holy Thursday so long ago.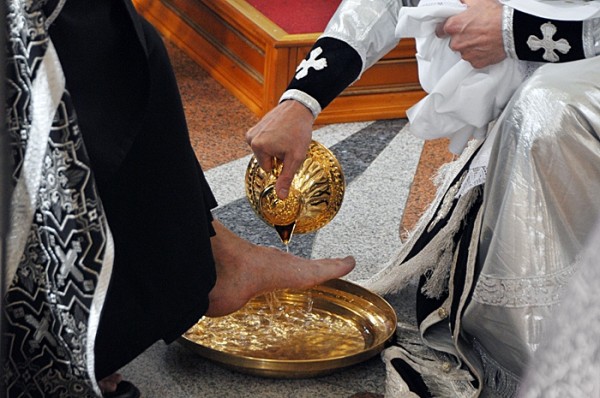 And, in commemoration of our Lord's example of humility, it is also the custom in cathedrals and monasteries to reenact His washing of His disciples' feet: 'You also ought to wash one another's feet, for I have set you an example, that you should do just what I have done for you….Now that you know these things, you will be blessed if you do them' (JN 13:3-17). Our bishops and clergy of every rank might find it salutary to ask themselves, 'Whose feet have I washed lately?' — literally or figuratively — before the laity hold them to account. Our Lord said that He came to serve, not to be served. Let us all follow His example.
There is a healthy interest in returning this ancient and instructive observance even to the parishes, where it has largely fallen into disuse. Although the orthodox practice the washing of feet only on Holy Thursday, there are heterodox Christians, notably the Seventh-Day Adventists and certain Baptist associations, who repeat this rite each time they observe the 'Lord's Supper', perhaps rightly interpreting the Lord's directive to 'do this in memory of Me' as including more than the offering of bread and wine.
Like St Peter (JN 13:9), we are in need of being washed all over, and the liturgical washing of feet is always a 'cathartic' event, in the language of psychology. But for us, far beyond being a merely emotional experience, this _katharsis_ ('cleansing') does much more than clean our feet. Nearly everyone who witnesses or participates in this event is moved to tears of spiritual compunction; our hearts and souls are softened and cleansed along with our bodies.
Lord, help us to put into practice Your commandment of humble service to each other, for every foot we wash is Yours.