The following remarks are drawn from a talk given by Archpriest Alexei Uminsky, rector of the Church of the Life-Giving Trinity in Khokhly (Moscow), at a book release gathering on December 22, 2011.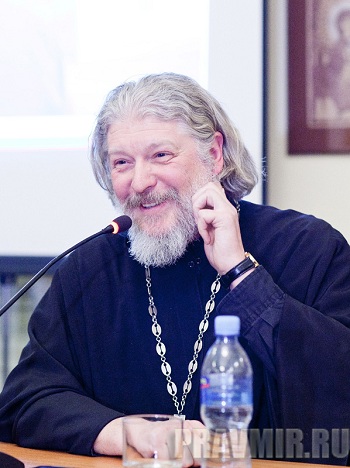 What is it that a priest normally asks someone about at Confession? "Have you read your morning and evening prayers? Have you kept the fasts? Have you prepared for Communion?" But the question of whether someone lives according to the Gospel is never asked! No one would even conceptualize it: neither priests, nor the people of God. But this is one of the very greatest problems in our church life.
The Gospel has faded into the background, for understandable reasons. It's very inconvenient to live with the Gospel; it's very difficult for us to apply the words of the Gospel to ourselves. Not very long ago our parishioners and I watched Carl Theodor Dreyer's film Ordet ["The Word"], an amazing film about how one man, a Christian, raises the dead. Everyone was bewildered: How can this be? He's in prelest [spiritual deception]! But, on the other hand, let's open the Gospel according to Mark and read: He that believeth and is baptized shall be saved; but he that believeth not shall be damned. And these signs shall follow them that believe; In My name shall they cast out devils; they shall speak with new tongues; They shall take up serpents; and if they drink any deadly thing, it shall not hurt them; they shall lay hands on the sick, and they shall recover (Mark 16:16-18).
When we read these words, does anyone apply them to himself? For whom are these words written? For whom are the words about the kind of faith that can move mountains written? For whom are these words written: Lord, bid me come unto Thee on the water [cf. Matthew 14:28]? We have a feeling, when reading the Gospel, that makes us say: This isn't about us; this is written about someone else; this has nothing to do with us. But as soon as we decide that something in the Gospel has nothing to do with us, then we begin – step by step – to give up on the Gospel. Then the Gospel becomes just another kind of prayer rule for us. What we don't understand in the least is that the Gospel is written for us, that we need to live according to it, that we need to measure ourselves by it. And we need to carry it out.
We say that there's very little love around us; we say that within the Church everything has become formalized. But the source of love is Christ Himself! And Christ speaks with us through the Gospel. The Gospel is the source of love, the source of that science of love that it alone can teach – not the morning and evening prayers, not the fasts. Nothing else can teach us love. They can sustain burning love in us; they can give us something to rely on in our movement toward love, but they can't teach love itself! Therefore, when we say that love has become impoverished, we should understand that this impoverishment has come about because the Gospel has gone out of our lives; it has gone somewhere off into the periphery of our consciousness.
Yes, we read the Gospel; and yes, priests sometimes even preach about the Gospel. We listen and then calmly say: "That was a good sermon," or "That was so-so." But to preach the Gospel to ourselves, to discover it, to understand it, to contemplate it, to be wounded by the Gospel, as it were – this we don't do. This has almost gone out of the life of the Church. With this book, I wanted to draw your attention to the fact that the Gospel must become the principal content of our faith, because all sorts of people can call themselves evangelists, not just Orthodox Christians. But we are the true evangelists: we've preserved the Gospel intact; we've preserved it in the light of patristic doctrine and the Tradition of our Church.
Question: You said that priests ask people coming to Confession simple questions. But what sort of questions would you advice us to ask ourselves?
The question I ask myself is: Who am I in the Gospel? Who am I now? In this context, where am I in life? And I think that there's no better book than the Gospel for preparing for Confession. Because if you read the Gospel honestly and well, everything will immediately fall into place. Because then we'll understand that Christ isn't in us. When we read about the Cross… I have been a priest for twenty years, and it frightens me every time I read it. I can't read it calmly, I can't get used to it. I try to ask people about the Gospel. If the Apostle Paul said that we should have the same attitude as in Jesus Christ [cf. Philippians 2:5] – then that's all there is to it: we need to see what kind of attitude we have.
Translated from the Russian
You might also like:
 Archpriest Alexei Uminsky, Is God Just?