"The precepts of St. Sergius of Radonezh are key to understanding Russia, to learning its foundamental principles – its historical traditions, unity and togetherness. It is in this unity, in truth and justice, in our centuries-long traditions in which lie the strength of Russia, its great past, present and future," Putin said.
St. Sergius played a truly seminal role in Russian history, he said. "The teacher and builder of Russia, this is how simply and concisely the people summed up the high mission of St. Sergius. His wise and firm word of a teacher was a spiritual pillar and support during the difficult period of foreign invasion and internal feuds. It was then that his prophetic words were said: love and unity will save us. And this exhortation filled with unshakeable faith served for the unification of the Russian lands and forever remained in our national psyche, our historical memory," the president said.
The scale and influence of the personality of St. Sergius have been felt through the centuries, Putin said. "He was the inspirator of the patriotic, national and moral uplifting. He helped consolidate the Orthodox Church and build monasteries which were not only spiritual centers but true fortresses and guardians of Russia," he said.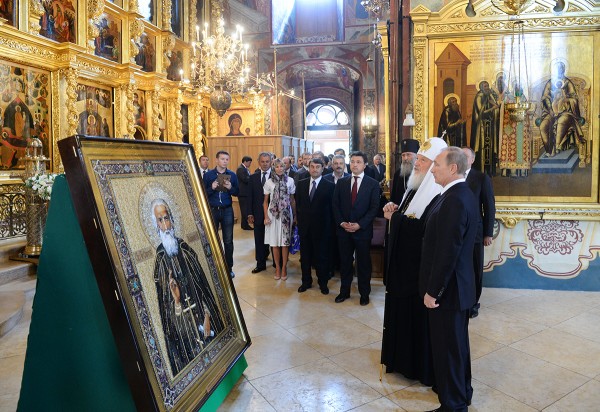 The Trinity Lavra founded by St. Sergius has a special role, Putin said. "It is rightly considered an Orthodox citadel, a pure source of faith and a national cultural treasury," the president said.
He noted the importance of restoring other places bearing the name of St. Sergius of Radonezh, which are seeing their "second birth" thanks to donations from ordinary people and "their memory about the great saint and his spiritual exploit."
Putin also met with Patriarch Kirill of Moscow and All Russia and representatives of local Orthodox Churches, who came for the celebration of the 700th anniversary of Saint Sergius of Radonezh.
"We live in difficult time, unfortunately, very many issues exist at the international arena and in spiritual and moral spheres, which are to be overcome, but we can do this only following the ideas, which St. Sergius of Radonezh, who called for unity and love, formed in his time. Only love and unity can save us," he said at a meeting.