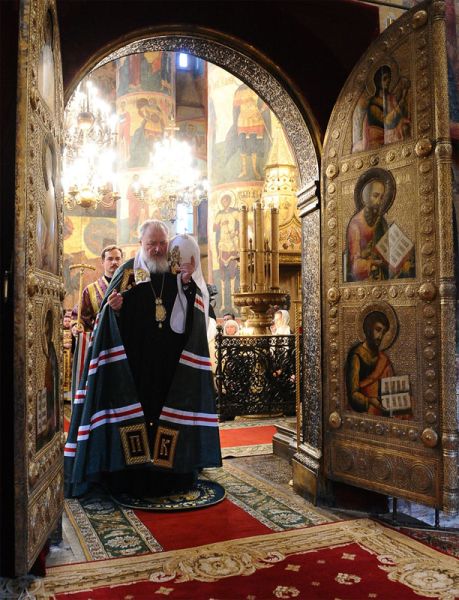 In the Name of the Father, and of the Son, and of the Holy Spirit!
On the second Sunday of Great Lent the memory of St. Gregory Palamas, Archbishop of Thessalonica, is celebrated. Archbishop Gregory was an enlightened man and a remarkable theologian who had experience of the monastic life on Mount Athos. In the distant fourteenth century he distinguished himself as an especially penetrating spiritual thinker. In his works he defended the Divine Light of Tabor, asserting that the light Christ manifest to the disciples on Tabor was not an ordinary light, as some thought, but a visible manifestation of Divine energy, of Divine grace.
Why do we remember St. Gregory specifically during Great Lent? Because he reached his penetrating conclusions not on the basis of book learning, but on the basis of real spiritual experience – both his own and that of many other monks, anchorites on Mount Athos, who through fasting, solitude, and prayer overcame their passions and vices, thereby uncovering the path of Divine knowledge and becoming so imbued with the power of the Divine presence in their lives that it rested upon them visibly. Very many of these solitary Elders and ascetics indeed shone with light, as if repeating that which took place on Mount Tabor. It is no accident that this amazing spiritual phenomenon, which in theology received the name of Hesychasm, is remembered during Great Lent. The example of St. Gregory, Archbishop of Thessalonica, along with the example of many other ascetics of that time, and of other times, helps us to understand the meaning of fasting.
Fasting is a real opportunity and means to defeat sin, to destroy vices and passions, and to make our hearts pure. We know from the Gospel that only the pure in heart shall see God (cf. Matthew 5:8). Today we should think about how fasting is the most direct and best way to overcome sin, to purify the heart, and therefore to see God. Fasting is a means towards knowledge of God. A multitude of people has travelled this path. When someone encounters God, when he feels the presence of His energy and His grace in his life, then how he wishes to safeguard this grace! It is no accident that, in the distant fourth century, monasticism arose as a withdrawal from life – not because of some strange people who were incapable of living socially, but because those who had had tangible experience of God through the struggle of prayer, fasting, and abstinence wanted to retain this state by all means. It is impossible to compare this spiritual condition with any kind of human joy – they are incommensurable. Man's contact with God puts him in touch with heaven, with the Kingdom of God, with unearthly joy. Already in the fourth century people understood that there is much in this world – with its vanity, problems, and false goals – that prevents one from safeguarding the Divine energy. They began to leave the world, to settle in the desert, thereby making a strange impression on very many people. But those who came into contact with the monastic life understood how much this experience helps retain grace in the heart.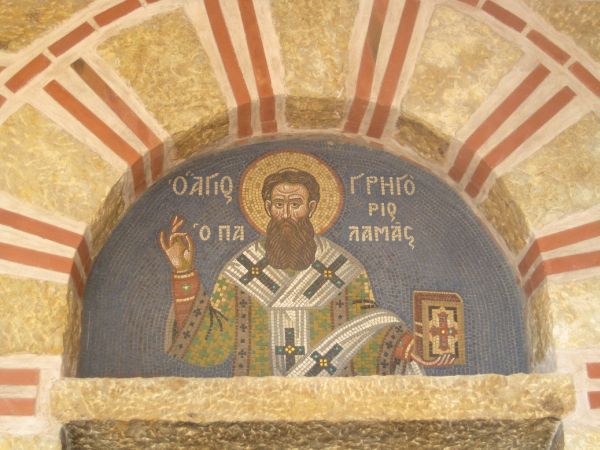 Exactly one thousand years later, in the fourteenth century, the powerful spiritual movement of Hesychasm arose in Byzantium and St. Gregory became a remarkable exponent of this spiritual and mystical tradition. What does this have to do with the Divine Light of Tabor? The point is that Divine grace becomes visible. Each of us has had occasion in life to meet luminous people. You look into the face of such a person and you see light. We want to be near this luminous person, to be nourished by this energy, by this rich inner world belonging to him. But we also know about other faces: when, looking into someone's face, you see hellfire; when a single look at someone's face causes a feeling of confusion, and sometimes even of horror. Just as Paradise and God's grace are reflected in someone's person in a visible manner, so too are hell and demonic power displayed outwardly. Would we believe someone with hellfire in his eyes? We would want to run away from him!
Sometimes we find it difficult to understand people. This can be especially difficult in youth: when young people seek to get married, how difficult it can be to understand another person! One needs to learn how to read people by their eyes, by their faces; but in order to do this one needs to be pure oneself. If the pure in heart shall see God, then the pure in heart shall see God in others – just as they also feel an absolute incompatibility in another person. We sometimes try to find some kind of wisdom, some kind of ability to establish proper relations with people – business, official, or personal. In fact, this is all simple, because God's law is simple: the pure in heart shall see God, period. No more philosophical constructs are needed – everything is clear and understandable. Fasting means working on oneself in order to acquire this purity; it is the spiritual effort of washing oneself from defilement. Why did holy people go into the desert, to Mount Athos, into reclusion? In order to safeguard this spiritual condition of purity and the joy of the Divine presence – because this is not only a perfectly special, incomparable condition on an emotional level, but a state that gives one strength, for after having come into contact with God's majesty, everything human becomes insignificant.
We need to be able to see people in order to establish proper relations, especially in order to avoid evil people and not to trust people who are capable of laughing at our trust and trampling upon our souls. We often need inner strength so that external circumstances not remove us from the life path that God has called us to follow. We need wisdom and strength, both everyone individually and society as a whole. We can overcome all difficulties and construct a good, just, and flourishing life only when we have within ourselves an unerring criterion of discerning good and evil as well as the inner strength and ability to serve good and resist evil.
It is no accident that we speak of this during Great Lent. When else will we give thought to the soul, if not during these holy days? May the contemplation of our inner life, prayer, abstinence, and the small but real ascetic struggle that we have taken upon ourselves help us to cleanse our hearts! Then perhaps, as if through a small opening, we shall see, if not God, then God's light. And, in the rays of this light, we will be able to see truth and falsehood, to distinguish good from evil, and to live according to God's law. Amen.
Delivered on February 28, 2010, in the Dormition Cathedral in Moscow.
Translated from the Russian.