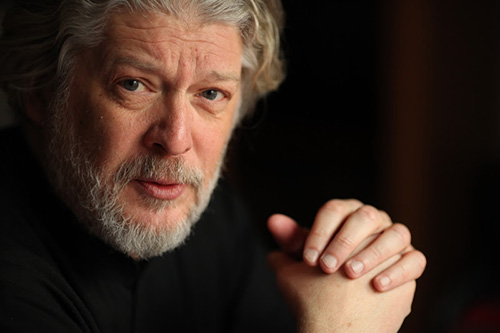 In the Name of the Father, and of the Son, and of the Holy Spirit!
Today we heard the words of the Gospel concerning how the Lord loved the world: "For God so loved the world, the He gave His Only-Begotten Son, that whosoever believeth in Him should not perish, but have everlasting life. For God sent not His Son into the world to condemn the world; but that the world through Him might be saved" (John 3:16-17).
Alongside these words of the Gospel, we heard the Parable of the Talents, concerning how the Lord distributes talents to His servants, sends them out to multiply His gifts, and how He will come to judge man for these gifts.
It might seem that these two passages are contradictory. On the one hand, God did not come into the world to judge it, but in order to save it. But the other passage tells us of how God will test man, of how God will come to man and ask him to answer for his life.
What is this salvation? What do the words mean that God so loved the world that He gave His Only-Begotten Son, that all who believe in Him might not perish, but have eternal life?
We know that, first of all, this refers to the Savior's redeeming sacrifice, His suffering on the Cross, His descent into Hades, and His Resurrection from the dead. This Gospel is read today because the Feast of the Exaltation of the Lord's Cross is approaching, the veneration of the saving sacrifice of our Lord Jesus Christ. He redeems us through His own death and His Resurrection from the dead from the power of sin and the devil. We are redeemed from slavery; by this sacrifice we are seemingly saved.
But no. God does not stop at simply making amends for our primordial sin and returning us to Adam's former possession. He does much more. He indeed saves us in the sense that no one has ascended into heaven save He that descended therefrom, the Son of Man. He allows us the opportunity to grow up unto His Only-Begotten Son in order to ascend to heaven, because no one has ascended into heaven save the Son of Man, Who descended from heaven. And this is what salvation is: to ascend unto heaven. It is to ascend unto heaven alongside the Only-Begotten Son, to follow His path to the end.
In order that salvation be accomplished in its fullness, God gives us the gift of talents. He enriches each one of us, but not in the way that we have grown accustomed to being enriched in this world. He enriches us with Himself. He enriches us – who have just been redeemed from slavery, poverty, and servitude – with Himself. He gives us something that we never had before, and that we would never have received without Him. He gives us His gifts, which are His very own property. His gives us as gifts His love, His freedom of creativity, reason… His divine purity… He gives us a great deal. And He gives us mercy. He gives us eternal life, that we might live in this divine law that is called the Law of God. He enriches us with everything that we cannot even explain, because God is infinite in His fullness. And He gives us all of this, to each according to his strength: to some ten talents, to others five talents, to some three talents, to some one talent… But all these gifts are the same: they are all Him.
Each of us receives this. But we receive it to the extent, unfortunately, that we are satisfied with these gifts here on earth. He gives us His love, but we fear following this love to the end, because to the extent to which we love, we are satisfied to love our neighbors, our family, and our children. But even this love comes with great difficulty and great obstacles, because we cannot love to the end; we are always stopping, because we fear loving to the end. And when it comes to loving our enemies, to loving those who hate and wrong us, here we find every means – and even theological ones – so as not to love them, so as not to be filled with this divine love with which the Lord enriches us.
The same thing happens with our freedom. When we take freedom to mean the freedom of our own actions, the freedom of our own wishes, the freedom of our own ambitions, then everything is fine: here we can understand our freedom. But when freedom also means great responsibility, when it means a life of freedom in God, a free denial of sin – here again we stop short. We fear such freedom.
Every time we encounter the great talent that the Lord gives us, this gift of God that makes us other, that transfigures mankind into God-Manhood, a terrible catastrophe takes place with us.
We always find very important and very clear arguments for ourselves about why we are not as Christ wishes to see us, why we do not go whence He is calling us, why we are in the position of that rich man to whom Christ said: drop everything and follow Me. This is salvation! This is how He saves us! There is no other way to be saved than this: this is how we are to follow Him whence He is calling us, and in such a way as He is offering us.
We always want to see our salvation in the fulfillment of certain things that are very understandable and pleasant to us. We can be pious to a certain extent, we can be faithful up to a certain point, we can love, but only our own. But when the Lord pushes open these doors and shows us the infinity of His paths, we are unable to follow Him. Here it is easier to say what the careless servant said: "Oh no, I buried it until the judgment, so that no one would ask me about it. When He comes, I'll give back to Him what He gave me, because to follow Christ who knows where…"
There are no guarantees! One who follows Christ has no support other than Christ Himself. And we who live in this world are not accustomed to seeking support in God. We are always in need of something material, of something visible, of something to which we are accustomed. But the Lord pulls these things out from under our feet and gives us nothing to rely on except Himself.
This is the kind of salvation He came with to us, this is the kind of salvation He gives every one of us, and it is for this salvation that He went where man had gone in his madness, to that profundity and that distance. There is in fact no limit to human fallenness, either. And the Lord descends into Hades, to the very depths of human sin, and there is no terrible, vile, and heinous sin that man has done to which Christ has not reached, which Christ has not touched, which Christ has not taken upon Himself. There is no abomination that Christ has not experienced through His crucifixion and His descent into Hades.
It is precisely because He experienced this, that He attained this, that He reached each one of us in our sin, in our fallenness, that He gives us the opportunity to attain to such heights to which no one had ascended, save the Son of Man. And we, having gathered in church for the Liturgy, have gathered in order to partake of Christ's Holy Mysteries in order in this moment to take in all this along with His Divine Body and Blood. To take in Himself, to take in His gifts, to take in His cross, to take in His freedom, to take in His love… We should understand that each time we approach to commune of Christ's Holy Mysteries, we approach this Dread Judgment, the judgment of His love and freedom, the judgment of His coming into this world, and the desire of each one of us to take with us and ascend unto the Heavenly Kingdom.
When we go to Christ, we can understand very well that we have no power, that we have no reason, that we have no experience, that we have no spiritual struggles and victories in our life. But if we do not have the desire to follow Christ to the end, then we should probably first of all give thought as to whether we should approach the Chalice. For this is the primary judgment for us: the Cup of Christ from which we partake. And every time we approach it, we say: "O Lord, I am ready to follow Thee to the end, although this is very, very frightening. Help me in this, O Lord." Then the Lord will come to each one of us in order to follow this path with us once again, and to the end.
Amen.
2012.
Translated from the Russian.